Giá xe BMW X6 xDrive35i $year
3,649,000,000
Hình ảnh ngoại thất
Trắng Alpine / Trắng Mineral / Đen Sapphire / Đỏ Flamenco / Nâu Sparkling Storm
PHiên bản tiêu chuẩn
Tech-Package
Equipment, brake syst. country-specific
Sports leather steering wheel
BMW LA wheel Y-Spoke 595
Adaptive suspension package 'Comfort'
Comfort access
Footplate, aluminum
Reversing camera
Washer nozzles, unheated
Roller sun vizor, rear door
Interior/outside mirror with auto dip
Smoker package
Seat adjuster, electric, with memory
Sports seat
Lumbar support, driver and passenger
Storage compartment package
Interior moldings, oxid-silber dark matt
Autom. climate control with 4-zone ctrl
Park Distance Control (PDC)
Kilometer-calibrated speedometer
Light package
Supplementary 12V sockets
LED Fog lights
Convenience phone, expanded Smartphone
Language version English
On-board vehicle literature English
Automatic locking when driving off
Daytime run.lights adjus.via light menu
OPTION LIST Phiên bản với giá bán: 3 tỷ 999
Tech-Package
Exterieur Design Pure Extravagance
Ausst. Kraftstoffe mit Verkokungsneigung
Equipment, brake syst. country-specific
Sports leather steering wheel
BMW LA wheel V-Spoke 597
Adaptive suspension package 'Comfort'
Comfort access
Soft-Close-Automatic doors
Footplate, aluminum
Reversing camera
Washer nozzles, unheated
Glass roof, electrical
Roller sun vizor, rear door
Interior/outside mirror with auto dip
Smoker package
Seat adjuster, electric, with memory
Sports seat
Lumbar support, driver and passenger
Storage compartment package
Fine woodgrain version Fineline Stripe
Autom. climate control with 4-zone ctrl
Park Distance Control (PDC)
Kilometer-calibrated speedometer
Light package
Supplementary 12V sockets
LED Fog lights
Surround View
Navigation system Professional
Head-up display
Harman/Kardon Surround Sound system
Convenience phone, expanded Smartphone
Language version English
On-board vehicle literature English
Automatic locking when driving off
Daytime run.lights adjus.via light menu
POWERFUL ENGINES
THE HEART OF EVERY X6.
35i: BMW's inline 6-cylinder 3.0 liter engine features BMW TwinPower Turbo technology, combining High Precision direct fuel injection, Double-VANOS and Valvetronic variable intake technologies, and a twin-scroll turbocharger. The result: turbo lag is virtually eliminated. Peak torque of 300 lb-ft kicks in at 1300 rpm, pushing you back in your seat all the way to 5000 rpm, and a maximum output of 300 hp is reached at 5800 rpm.
Available in: X6 sDrive35i, X6 xDrive35i

ADVANCED BMW ENGINEERING AT WORK.
xDrive, BMW's Intelligent All-Wheel Drive System: Working in tandem with Dynamic Stability Control, BMW's xDrive all-wheel drive system monitors the road's conditions. Once it senses excess slip, it smartly sends power to the wheel with the surest footing, improving traction and delivering neutral, responsive handling.

The BMW X6 is very dynamic for an all-terrain vehicle, and that makes it unique.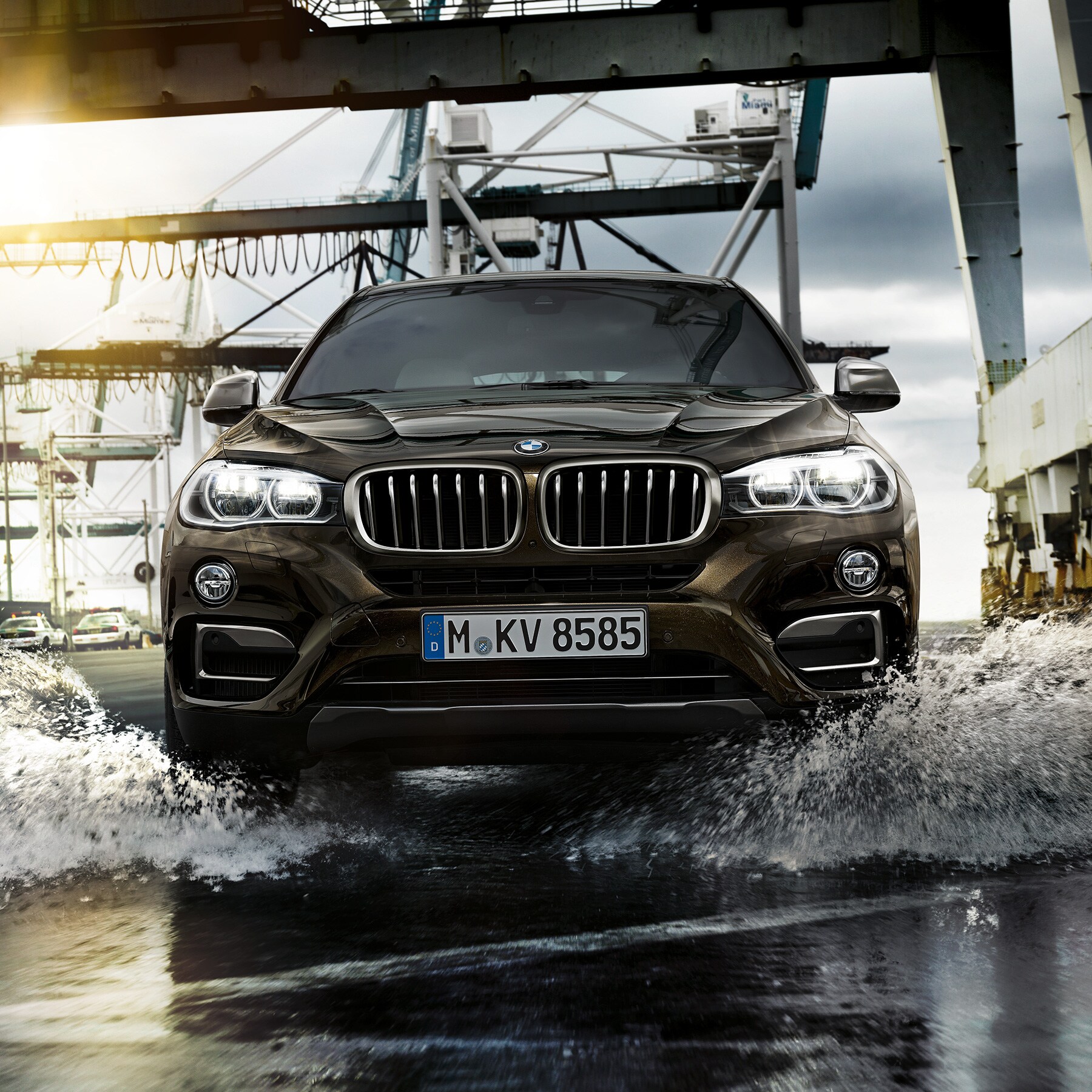 The BMW X6 is damn fast for a SUV and quite a good mountain climber for a Coupé.